Fears autistic pupils in Pembrokeshire missing out on education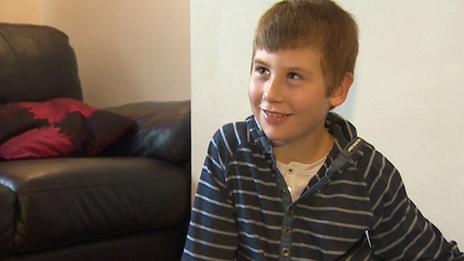 There are fears some children with suspected autism are missing out on a specialist education because waiting times for diagnosis are increasing.
In the Hywel Dda local health board area, 311 children have been diagnosed but a further 340 are still waiting to be assessed.
Appropriate education provision is difficult without a correct diagnosis.
According to figures obtained by BBC Wales Today almost 4,000 children in Wales have been diagnosed with autism - two thirds of those children are in mainstream education.
But the programme, which will be broadcast on Friday at 18:30 BST on BBC One Wales, spoke to the National Autistic Society which said more than half of of those with autism had waited more than two years to be diagnosed.
Nine-year-old Tom Fairburn, from Pembrokeshire, has a chromosome condition called 47 XYY syndrome, which means he has an extra Y chromosome. As a result Tom has learning difficulties.
But when Tom was seven his mother, Samantha, suspected he had Autism Spectrum Disorder (ASD). Nearly three years later, Tom is still waiting for a diagnosis.
His mother said Tom's story was typical for the area.
"I think everybody is in the same position, I think everybody just wants their children to be seen," said Ms Fairburn.
She called for better training and facilities in schools as well as better support from the education and health authorities.
"When he was in junior school I raised my concerns that there was no way he was going to cope in mainstream and then when they did open a unit it was basically just a classroom which they called a unit," Ms Fairburn said.
"They didn't have the facilities for children with special needs - no sensory room, no quiet areas and the space was quite small. Children with autism like space."
Ms Fairburn called for teachers to receive more training on how to manage children with autism.
"I know autistic children are different but a lot of their ways are the same and I think a lot more training should be given - and to teachers in these units," she said.
"In his school I felt that they thought he was naughty and, to be honest, I think that they couldn't cope with him and they didn't want him in the school... I think Tom felt like that as well."
Meleri Thomas, from the National Autistic Society Cymru, said more needed to be done to help children like Tom.
"It is quite worrying local authorities don't know exactly how many children are waiting for a diagnosis because if they don't know that then they can't know how to plan for provision and what kind of provision is needed," she said.
"The more forward planning they can do the better it would be in the longer term and for the children in their local authority areas."
A spokesman from Pembrokeshire council said: "There has been considerable development of specialist provision in response to a substantial increase in need.
"We currently have specialist provision for 60 children which is more than in most authorities.
"We are working closely with parents of children with ASD to ensure that we develop both specialist provision and improve this capacity of mainstream schools to meet the needs of all children with ASD."
A spokeswoman for Hywel Dda said it expects to take on more staff in January to cut waiting times.
"The health board is committed to reducing the waiting times for ASD diagnosis across the Hywel Dda area, focusing initially on Pembrokeshire and will be employing more staff to achieve this," she said.
"The health board is also working with the Welsh government on the refresh of the all Wales ASD strategy to ensure in future that the significant issues facing the service currently are addressed in a sustainable manner."
More on this story will be broadcast on BBC Wales Today at 18:30 BST on Friday.
Related Internet Links
The BBC is not responsible for the content of external sites.