Giant bull seal leaves Skomer Island couple stranded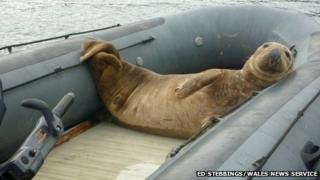 A newlywed couple who have been living as wardens on an island off the Pembrokeshire coast became stranded when a giant bull seal got into their dinghy and did not move for four days.
Eddie Stebbings, 35, and Bee Bueche, 36 have spent their first three months of married life on Skomer.
They married in August and arrived in time for the seal pupping season.
"It's been an interesting start to married life for us - we have shared it with the seals," said Eddie.
"They are joy to watch but we try not to interfere with them too much - we have to let nature take its course.
"We have been out with them every day since - even when that hurricane blew up we were on the cliffs checking on the seals.
"Skomer is only a small island so 180 baby seals is a lot to keep an eye on.
He added: "One morning... the seal flopped itself into the boat. It refused to budge for four days and was at one point joined by another seal.
"He was about four times my weight, eight foot long and clearly not worried about people coming close to him."
Eddie and Bee have left the island for the winter and will spend the next four months writing up detailed reports of their seal and bird studies.
Skomer, managed by The Wildlife Trust of South and West Wales, is one of Britain's most important bird sanctuary islands.
A spokeswoman for the trust said: "The island is in good hands with Eddie and Bee - they are dedicated to its wildlife and have fallen in love with its seals."