Campaigners win Morfa Beach steelworks footpath row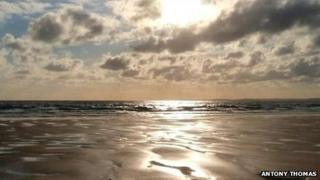 Campaigners have won their battle to keep open a public footpath near a steelworks.
The path on land owned by Tata Steel leads toward Morfa Beach, which is only accessible by foot. It is thought to have been used since the 1800s.
Tata Steel said the area had hazards and asked Neath Port Talbot council to divert walkers via a new footpath.
But the application was rejected after a two-day public inquiry held in October.
The beach stretches from the deep harbour at the eastern end of Aberavon sands to the mouth of the Kenfig River.
The council argued during the inquiry the paths do not reach the beach and it means walkers are in danger from on-site lorries.
It wanted to close one footpath in Longland's Lane in Margam - which is regarded locally as a direct route to the beach - and divert another path which leads from Kenfig Nature Reserve.
But locals argued the path to the beach - also known as Margam Sands - has already been used unofficially without problems for years.
Charles Smith from the Save Morfa Beach protest group said he was delighted and that the outcome was as they had expected on the balance of evidence.
Dr Jay Kynch, who represented the Open Spaces Society at the public inquiry said: "I am delighted that we won.
"It has been a pleasure to help our member Save Morfa Beach, who ran an excellent campaign with massive support.
'Direct path'
"It is good to know that, thanks to all our efforts, the public can continue to use this direct path to the beach - one of the longest beaches in south Wales."
Neath Port Talbot council said: "The application for the three orders was submitted by Tata Steel.
"Neath Port Talbot council processed the application and members subsequently supported it.
"Due to the fact that the proposal received objections, it was automatically referred to the planning inspectorate for an independent decision."