Dyfed-Powys Police liaise with CPS over payments to council chiefs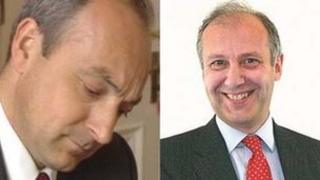 Police have contacted the Crown Prosecution Service after a public spending watchdog said payments by two councils to their chiefs were unlawful.
Carmarthenshire chief executive Mark James and Pembrokeshire's Bryn Parry Jones received cash payments in lieu of employer pension contributions.
Both councils defended their pension payment policies as lawful following the Wales Audit Office (WAO) report.
However they agreed to look again at how the decisions were made.
On Friday, the audit office said that both councils had acted unlawfully in allowing the chief executives to opt out of the Local Government Pension Scheme (LGPS) to avoid potential tax payments.
'Lawful'
More than £27,000 was paid to Mr James under the scheme since 2012 and about £51,011 is expected to have been paid to Mr Jones and another unnamed senior officer by the end of March.
Plaid Cymru MP Jonathan Edwards wrote to the chief constables of both Dyfed-Powys and South Wales police forces calling for an investigation.
In a brief statement on Monday, Dyfed-Powys Police said: "Dyfed-Powys Police can confirm that they are liaising with both the Crown Prosecution Service and an external force in relation to the report issued by the Wales Audit Office last week."
After the WAO report was published, Carmarthenshire council said it was pleased the report did not think its pensions policy was unlawful but that its procedural process was flawed.
The report said the council had since "rescinded its decision to offer a pay supplement in lieu of pension contributions and announced that no further payments will be made to the chief executive from January 2014".
Pembrokeshire council has insisted its pension payment policy was lawful.