Monks on Caldey Island get £20,000 electricity rebate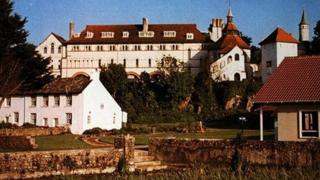 Monks living on Caldey Island off Pembrokeshire have received a £20,000 refund after being overcharged for electricity for the past decade.
The Cistercian monks live a simple life so they were shocked to receive such large bills.
Energy experts were brought in to help and discovered the monks had been overpaying two electricity companies.
They now plan to invest their rebate on a heating system for the abbey where they live.
They kept all their old bills and gave them to the Energy Company, based in Ruthin, Denbighshire, which works on behalf of a number of religious institutions in the UK.
Monk Father Daniel said: "They found we had been over-paying for about 10 years.
"You have to take it on trust that you are being billed correctly but we hadn't been. But we've had a substantial sum returned to us."
The monks have now negotiated a new deal and plan to use their refunded cash to buy a heating system.
The 12 monks live and work on the island - off the coast of Tenby - making perfume, ice cream, cheese and chocolate to sell to the 55,000 holidaymakers who visit each year.