Uefa to probe Swansea City fans' Napoli match delays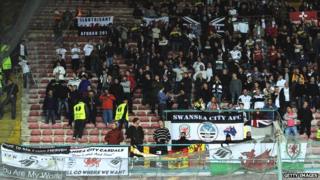 Uefa has begun disciplinary proceedings against Napoli after hundreds of Swansea City fans missed the start of their Europa League match in Naples.
Swansea City said fans suffered "unnecessary and deplorable delays" at the match on 27 February.
Those affected were on police-escorted buses to ensure they arrived safely at the Stadio San Paolo after fans of other clubs faced trouble at previous European matches in the Italian city.
A hearing will take place on 20 March.
A spokesperson for Uefa - the governing body for football in Europe and organisers of the Europa League - said: "Disciplinary proceedings have been opened against SSC Napoli for insufficient organisation, illicit banners and throwing of fireworks.
"The case will be dealt with by the Uefa control and disciplinary body."
Many fans said they missed the first half-an-hour of the game, a second-leg tie in the Europa League's round of 32 that followed a goalless draw at the Liberty Stadium.
They had been advised to forsake public transport for a convoy of buses escorted by police from the port area to the stadium to avoid possible clashes with Napoli fans.
Fans travelling from Rome were also affected.
Swansea City were beaten 3-1, a result that put them out of the competition.
Following the game, a club spokesman described the fans' treatment as "deplorable".
The spokesman added: "To make matters worse, this is not the first time this has happened to visiting fans in Naples. Arsenal fans suffered the same fate there in the Champions League recently.
'Disgraceful'
"We thought we had done everything possible to alleviate any issues for our fans. We sent a delegation from the club, South Wales Police and the Football Association to Naples last month to discuss previous problems with the local police.
"We thought we had made positive progress because we were given assurances that previous issues would not be repeated for Swansea City fans. Unfortunately, most of the promises and assurances we were given were not honoured on the night.
"We did everything possible on the night to rectify the situation by getting the British consulate, Uefa delegates and Napoli officials involved. Unfortunately we had no control over events.
"As a club, we appreciate the tremendous support our fans have given us over the years. Having travelled so far to support the club at substantial cost, for them to be treated in this manner is nothing short of disgraceful.
"Our supporters were impeccably behaved in Italy and were again a credit to the club. For them to be treated in this manner is totally unacceptable.''
South Wales Police also submitted a report to Uefa on the policing and security arrangements surrounding the match.
Phil Sumbler, chairman of Swansea City Supporters' Trust, was on one of the buses and told BBC Wales: "It was massively frustrating."