Mountain bikers spot 'lost' golden eagle in Carmarthenshire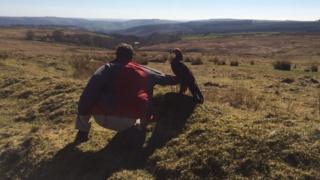 A golden eagle has been spotted by a group of mountain bike enthusiasts on Llanllwni Mountain in Carmarthenshire.
Although Dyfed Powys Police said there were no reports of a missing eagle, the RSPB said it was likely to have escaped.
The giant bird of prey has bells on it feet, said Nikki Channon who was surprised to see the eagle while out on a ride on Tuesday.
"No doubt someone is very anxious to have lost this bird," she said.
She was taking guests at her mountain biking business on a guided rise when they saw what she described as the tame bird.
"It is obviously tame and lost but could cause damage or take local lambs if it gets very hungry."
Falconer's birds
Ms Channon added: "It is also huge and so could easily frighten the public - it allowed us to come very close."
She added that she hoped the bird can be returned to its owner safely.
A spokesman for the RSPB said: "This bird is likely to be an escapee rather than a wild golden eagle.
"They are commonly kept as falconer's birds or in bird of prey centres so this one is likely to have got away from its owner."
The spokesman added that golden eagles were once found in upland areas in many parts of the UK.
"However, persecution pushed these birds to extinction in England and Wales by 1850.
"They are now almost entirely restricted to Scotland. Sadly, the persecution of golden eagles and other birds of prey continues to this day," the spokesman added.