M4 Port Talbot junction to close in traffic congestion trial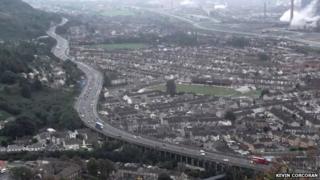 A junction of the M4 motorway in south Wales will be closed as part of a trial to ease congestion.
The closure of junction 41 at Port Talbot starts this summer and aims to boost traffic flow in both directions.
Economy and Transport Minister Edwina Hart said studies predicted it would increase the capacity of the M4 by 11% westbound and 2% eastbound.
She also claimed estimated economic benefits of over £1m per year due to fewer accidents and delays.
Managers at Aberafan shopping centre in Port Talbot have previously said they were against the idea of closing junctions because it would lead to customers heading elsewhere.
The Welsh government has been carrying out a study into traffic flows around the Port Talbot area.
In a statement to assembly members, Mrs Hart said: "As part of this study I have agreed to the trial closure of the westbound on-slip and eastbound off-slip roads at junction 41 under an experimental order with the aim of improving traffic flows on the M4 motorway through the Port Talbot area."
She said it would allow "monitoring and assessment of the benefits and provide real data to inform the decision on the way forward".
The public would be invited to comment, she added.
"Mitigation" measures will be introduced to junctions along the nearby A48 trunk road and other roads in the area before the trial.
Mrs Hart said funding of £521,000 had been offered to Neath Port Talbot council to cover the cost of "local highway mitigation measures" but it had not yet been formally accepted.
The idea of closing motorway junctions near Port Talbot to improve traffic flow was raised by the Welsh government in June 2012.
Aberavon Labour MP Hywel Francis said: "The closure of junction 41 is a very worrying development because it will become more difficult to gain access to the shopping centre, railway and bus station.
"If this becomes permanent, it will do long term harm to the prosperity of the town."