Volunteer Jason Venables-John gets Sovereign's Award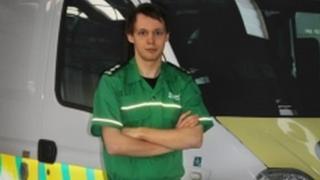 A teenage volunteer is receiving an award at Buckingham Palace after giving 1,000 hours of his time to help other people in a single year.
Jason Venables-John, 19, of Fishguard, Pembrokeshire, receives the Sovereign's Award for voluntary service from Princess Anne for his first aid work with St John Wales.
The award is given to 10 people a year recognising outstanding contribution.
The Cardiff music student has worked with the charity since he was nine.
As well as providing first aid assistance at big events at the Cardiff's Millennium Stadium, he spent two weeks in Zambia in southern Africa teaching first aid to police officers, teachers and schoolchildren.
"I'm overwhelmed to receive this award, in particular knowing that I'm only the third person in Wales to ever do so," he said.
In all, 16 St John Wales volunteers will make the trip to the palace for the young achievers' reception.
St John Wales has about 4,200 volunteers with 3,000 aged under 25.
Its youth director Damian James said: "Our younger members constantly go above and beyond to help in not only their communities but also in communities around the world, and Jason is a great example of this."