M4 junction closure 'devastates' Port Talbot traders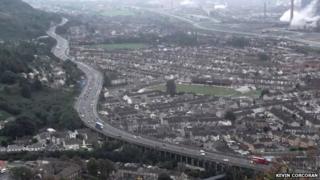 Traders in Port Talbot say they are devastated by the decision to close a junction of the M4 motorway in south Wales to ease congestion.
The six-month trial closure of junction 41 starts this summer and aims to boost traffic flow in both directions.
Transport Minister Edwina Hart claimed there would also be estimated economic benefits of over £1m per year due to fewer accidents and delays.
But some local businesses say the move is illogical and detrimental.
Steve Garvey, president of Port Talbot Chamber of Trade, said: "Take that junction away from us and there's no reason to come to Port Talbot anymore - you might as well go to another town or a retail park.
"You just can't justify it. If the junction was an accident black spot I would be the first to say it should be closed but we can find no logical reason for the closure east and west.
"What we are worried about is the traders who are struggling now - they have not got the capacity to withstand those six months."
The idea of closing motorway junctions near Port Talbot to improve traffic flow was raised by the Welsh government in June 2012.
A study has been taking place ever since leading to the closure announcement on Tuesday.
In a statement to assembly members, Mrs Hart said: "As part of this study I have agreed to the trial closure of the westbound on-slip and eastbound off-slip roads at junction 41 under an experimental order with the aim of improving traffic flows on the M4 motorway through the Port Talbot area."
She said it would allow "monitoring and assessment of the benefits and provide real data to inform the decision on the way forward".
The public would be invited to comment, she added.
"Mitigation" measures will be introduced to junctions along the nearby A48 trunk road and other roads in the area before the trial.
'Incensed'
Mrs Hart said funding of £521,000 had been offered to Neath Port Talbot council to cover the cost of "local highway mitigation measures" but it had not yet been formally accepted.
Mr Garvey said the traders held their own study of the number of people coming into the town centre off junction 41 which showed 32% of its traffic used the town centre.
Steve Redmore, manager of the nearby Aberafan shopping centre, whose 68 tenants make up the majority of businesses in the town centre, said more than 5,000 people have filled in a petition against the closure.
"It goes to show how incensed the people of Port Talbot are about this decision," he said.
"We will continue to campaign with the support of the public, residents and local authority.
"We're absolutely devastated. It will have a detrimental impact. There's been no consultation by the Welsh government with regard to what I wrote to Edwina Hart.
"Quite a substantial number of people use that slipway and it is the main artery into Port Talbot town centre.
"There's a peripheral road but that will bypass the town centre."