Deal to sell Murco refinery in Milford Haven could be sealed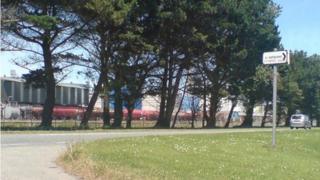 Speculation is continuing over whether a buyer has been found for a refinery in Pembrokeshire.
Talks have been held between Murco in Milford Haven and London-based Greybull Capital, it has been reported.
But the investment firm would need a partner to continue to operate the site, according to the Reuters news agency.
Last month Murco, which employs around 400 people at the refinery, said the sales process was "progressing".
Greybull, however, declined to comment.
The site has been up for sale for more than three years and there have been concerns it could be turned into a storage facility if a buyer is not found.
Murco's 400 petrol stations across the UK would also be part of the deal but the full cost of the deal is unclear.
A spokeswoman for Murco, the Murphy Oil subsidiary that operates the refinery, confirmed talks for the sale of the refinery were coming closer to a conclusion.
"Discussions with regard to the sale of the Murco UK business by its US parent, Murphy Oil Corporation, are ongoing and are at an advanced stage."
David Pugh, Pembrokeshire council's cabinet member with responsibility for the economy, said: "We have been aware for some time that Murco is in advanced discussions with a potential purchaser.
"We are pleased to hear that these negotiations are now nearing completion and that the future of the refinery is looking more secure.
"Our officers, together with the Welsh government's energy and environmental team, are in regular contact with Murco and the company is aware of our support for them and whoever acquires the business."