Afan Lido: Work on £13m lido could start soon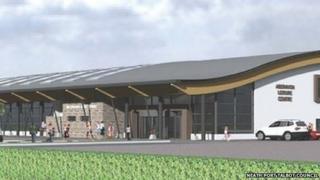 Work to build a new leisure complex in Aberavon could start before the end of the month if plans are given final approval by councillors next week.
Neath Port Talbot's cabinet will look at proposals to replace the Afan Lido which was destroyed by fire over four years ago.
The £13m project includes an eight-lane pool, cafe, fitness centre, dance studio and sports hall.
The new lido is planned for a site on Aberavon seafront.
Neath Port Talbot council said the overall budget for the project had increased by £232,000.
Council leader Ali Thomas said the process had taken longer than expected.
This was due to the "difficult site clearance issues" following the 2009 fire, the design requiring an extensive consultation, the need for planning permission and the tendering process for the work.
"However, this report marks the final stage of that process and we are now able to deliver the new facility with construction to start before the end of the month," said Mr Thomas.
"This will not compromise on quality or the mix of facilities that will be available at the new centre, and additional resources have been allocated to the project to meet the commitments we gave to the community and the wider area."
The original Afan Lido was opened in 1965 by the Queen, while Graham Jenkins, the brother of the late Hollywood star Richard Burton, was its first manager.
The venue hosted major concerts by Spencer Davis and Pink Floyd in its early days, and Coldplay and McFly in recent years.
But in December 2009 the building was gutted by fire and finally demolished in late 2011.
A total of 2,628 people took part in a Neath Port Talbot council consultation on replacing the facility.
Although many people said they would like to see an identical rebuild, the council said just keeping the old lido going was costing £700,000 a year.