Creative future for empty Swansea centre warehouse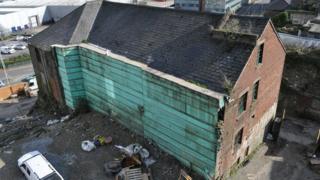 A Victorian furniture maker's Swansea warehouse that has lain empty for almost 20 years is to become a centre for creative firms.
The King's Lane warehouse is part of social landlords Coastal Housing's plans for High Street and the Strand.
The work is expected to last until December, with the first tenants moving in by early 2015.
Phase one of the £25m plans has seen 76 homes, car park and retail units built on wasteland on High Street.
Phase two aims to attract start-up businesses to the warehouse, which for over a century was home to Down and Sons furniture manufacturers.
Urban Village Project manager Dom Amirat said: "In phase one our primary focus was on creating affordable homes, along with some retail units and parking. In phase two, we want to try and make the area somewhere young people will want to both work and live.
"The warehouse will host units of varying sizes, open to start-up companies in niche creative industries who wouldn't ordinarily be able to afford business premises - be that a digital production firm, or a one-man-band making jewellery or ceramics."
Between 1889 and 1995, the warehouse's original occupiers Down and Sons were something of a Swansea institution.
The building itself is significant, as it is one of the few examples of Victorian architecture in the area to have survived the Swansea wartime blitz.
Mr Amirat said the urban village renovation sees the warehouse's history come full circle.
"We have been striving to rejuvenate High Street and the Strand - as well as battling anti-social behaviour there - for well over a decade now, but as it turns out, that's nothing new at all,
"Because when we came to research the history of the warehouse, we found that the main reason permission was given to Down and Sons to build on the site in the 1880s, was because of concerns that it was becoming an over-populated slum with major crime and health problems."
The warehouse's exterior is set to remain unaltered, but it is to be gutted and refurbished inside.