MP's 'guinea pig' concern over Cwmgwili pyrolysis plant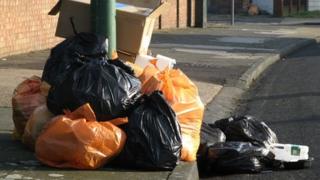 Llanelli MP Nia Griffith has raised concerns about plans to build a new waste processing and energy generation facility in Carmarthenshire.
Clean Power Properties hopes to build a plant in Cwmgwili for a pyrolysis unit which uses heat treatment of organic waste to generate gas and then used to make electricity.
The planned facility has been called an incinerator which the firm denies.
The MP says the community will become "guinea pigs" if the plant is built.
Natural Resources Wales confirmed there are no other such plants in use in Wales.
However, one such facility has been granted an environmental permit in Clydach, Swansea, but is yet to be built.
Labour MP Ms Griffith said: "There doesn't seem to be any example of it up and working we can look at and we don't really want to be the guinea pigs here."
She said that local people want to "know what the dangers and what the types of emissions are".
Renewable energy
The firm is proposing a facility that will "utilise sunlight and locally generated waste to produce renewable energy in the form of electricity which will be transferred into the local grid network".
It will also include an anaerobic digester and a solar park with photovoltaic panels to generate up to 18MW of electricity which is equivalent to "powering over 20,000 homes".
Developers say the pyrolysis plant in Cwmgwili would be used in its process which includes sorting and separating waste:
Biomass fibre would be created from biodegradable rubbish with non organic recyclable material sent for recycling
Biomass fibre would be used in a pyrolysis unit and heated to produce a "synthetic gas (syngas)"
Syngas would then be used in "piston engines to generate renewable heat and power"
There has been some opposition to energy recovery centres proposed by Clean Power Properties at Dudley, near Birmingham, in Hampshire and Ealing.
Clean Power has submitted its plans to Carmarthenshire council for an energy recovery centre and solar farm.
It carried out a consultation last autumn with 79 people attending a public exhibition in Cwmgwili and a further 45 people providing written feedback.
The proposed location is on a landfill site at New Lodge Farm where the new developers are closing down the existing landfill operation.
If given the go-ahead, the developers say 34 jobs would be created for day to day operations and an estimated 150 jobs in the construction phase.
A company spokesperson said: "As we have set out from the start of our community engagement process last autumn, we will not be incinerating any waste at the site.
"Our proposal is to create a modern, clean, energy generating development which captures all recyclables for local re-use."