Wiston, Pembs, 'minor explosion' home search continues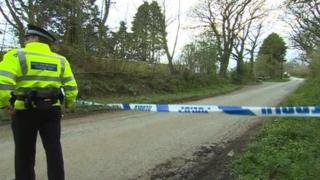 A property in a Pembrokeshire village remains cordoned off after an incident that has left a man in hospital following a minor explosion.
Police are to continue searching an address in Wiston after the departure of an Army bomb disposal team.
They were called after a 19-year-old man injured his hand in the blast at 12:05 BST on Thursday and was airlifted to Morriston Hospital in Swansea.
Police say they are not looking for anyone else over the incident.
The Wiston to Crundale road, closed as a precaution, has reopened.
Police evacuated four homes nearby and motorists were asked to avoid the area.
Resident Fiona Morgan told BBC Radio Wales she arrived home from work as emergency crews descended on the village.
"My grandmother had said there was an air ambulance trying to land, one of the neighbours said there was an almighty bang and a bad smell," she said.
"There's been a lot of police and sniffer dogs - it's just lucky that nothing happened closer to the village.
"It's a really, really sleepy and quiet village. It's very peaceful normally - just a lovely place to be."
Bomb disposal experts left the village at around 21:00 BST on Thursday but the building at the centre of the alert is still sealed off.
Dyfed-Powys Police said: "The safety of all in the area is our priority, and the small number of residents who were evacuated have not been allowed back to their homes at this time.
"Searches and inquiries are expected to continue for the majority of today.
"Explosive ordnance disposal attended the scene to provide their specialist skills and knowledge and to ensure safety of those at scene, but left last night."