Men want to support breastfeeding partners - Swansea uni study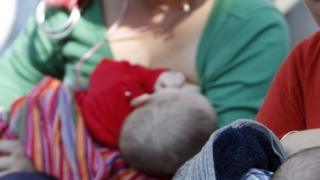 Fathers want to be more involved in supporting breastfeeding but need more information, claims a study by Swansea University.
It shows that fathers often feel left out and helpless after their baby's birth when it comes to breastfeeding.
They feel excluded from information and education that would help them support their partner.
More than 100 people supported a breastfeeding protest in Swansea last month.
The research is published after criticism of a Staffordshire mother who was labelled a "tramp" for feeding her baby in public.
Emily Slough launched a campaign after finding a photograph on Facebook of her feeding her daughter in Rugeley.
Dr Amy Brown and Dr Ruth Davies from Swansea University led the study and penned a report.
They are encouraged their study shows that fathers feel positive about breastfeeding and want to be able to support their partner.
They surveyed a sample of 117 men whose partners had given birth in the last two years and had started breastfeeding immediately.
Dr Brown said: "We know that women who feel that their partner is supportive and encouraging of breastfeeding are more likely to continue breastfeeding.
"Our findings show that men want to do this which is fantastic news but feel unprepared or unsure of how they can help.
Upset
"They might feel that they are excluded from the feeding relationship and want to know how they can be more involved in their baby's care or feel upset and unsure of what to do if their partner is having difficulties breastfeeding.
"We need to make sure that dads to be also have lots of information about practical and emotional ways to support their partner so that they feel both confident and involved at this time."
Dr Davies said research showed how important fathers were to their baby's development.
"It's crucial that they have access to the support they need, both to promote breastfeeding but also for themselves and their relationship with their baby and role as a father," she added.
"Our results suggest that fathers want specific and accessible information about the benefits of breastfeeding, strategies to encourage and support their partner alongside support for themselves during this time.
"Fathers need health professionals to direct support and information towards them, as well as the mother and to recognise their importance in promoting and enabling breastfeeding."