Nigel Evans trial a 'fishing expedition' - Lembit Opik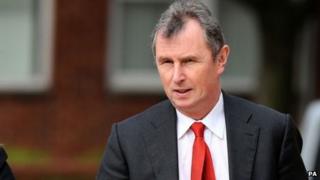 Ex-MP Lembit Opik has said the Crown Prosecution Service (CPS) was now in the dock after Swansea-born MP Nigel Evans was cleared of rape and sexual assault.
Mr Opik called the investigation a "fishing expedition".
Until conviction, the same anonymity should be given to those accused of sexual attacks as is given to victims, he said.
But the Director of Public Prosecutions has defended the decision to prosecute.
Speaking on Friday, Alison Saunders said the CPS applied the "same test no matter who the offender or the victim is".
She added: "We looked at all the evidence and decided there was a realistic prospect of conviction."
'Sympathy'
Mr Opik, the former Liberal Democrat MP for Montgomeryshire, told the BBC's Sunday Politics Wales he was amazed the case went to court.
He claimed he was called as a prosecution witness at the Preston Crown Court trial which ended in Mr Evans' acquittal last Thursday because they "were desperate to cobble together this particular set of charges".
Independent Ribble Valley MP Mr Evans should not have to pay his £130,000 legal costs, Mr Opik added.
Welsh Secretary David Jones has also voiced support for the former Conservative MP who stood down from his deputy Commons speaker post to fight the case.
Mr Jones told BBC Wales: "I have a huge amount of sympathy for Nigel and one can only imagine the sort of anguish he's gone through in the last 12 months or so. It's been a very difficult time for him.
"I know Nigel well and I know that he's a good man. I certainly would like to see a political future for Nigel.
"Nigel will be having discussions with the party when parliament returns after the recess.
"I personally very much hope there will be a future for him."
Mr Jones added: "He's a good parliamentarian, he understands parliament and I think parliament would be richer for him continuing to work there."