Carmarthenshire to research Welsh-language speaker drop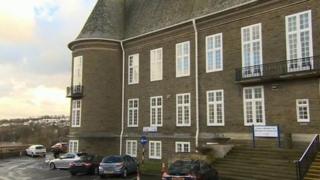 A cross-party report aimed at halting the decline of the Welsh language in Carmarthenshire has been backed by the county council.
Over 70 recommendations were made by a group set-up after the 2011 census showed a 6% drop in Welsh speakers.
Councillors also agreed to research factors behind the language's decline and to propose ways to address it.
Cymdeithas yr Iaith Gymraeg (Welsh Language Society) said the council should give a timetable for change.
According to Welsh Language Census Working Group report, education is one of the main areas for action.
Measures include supporting the principle of all English-medium primary schools in the county eventually delivering foundation phase education for infants in Welsh.
The council also backed the recommendation that secondary schools plan for a growth in Welsh-medium education.
The report also aims to establish the "full understanding and awareness of the effect of planning on the Welsh language".
The board of the council has already supported the report.
Census findings
Before the meeting, members of Cymdeithas yr Iaith Gymraeg raised a flag on the wall of a car park at County Hall with the message "Carmarthenshire County Council - It's time for Action".
Chair of Cymdeithas yr Iaith Gymraeg in Carmarthenshire, Sioned Elin, said: "We note that the council has only pledged to act on some urgent matters, but have not yet created a definite timetable.
"We now expect that the implementation timetable is put in place in time for the Eisteddfod, when the eyes of Wales will be on Carmarthenshire."
The 2014 National Eisteddfod is held in Llanelli for the first time since 2000.
The 2011 census revealed the county's Welsh speakers had fallen under half its population for the first time.
Carmarthenshire saw the greatest reduction in percentage points in the number of Welsh speakers across Wales - from 50.3% in 2001 to 43.9% in 2011.
In March First Minister Carwyn Jones said a new vision for the Welsh language will be set out by the Welsh Government later in the spring.