Malcolm Green may have lived with earlier op, inquest told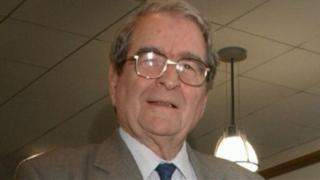 A businessman who died after complications following a cancer operation "would probably have survived" if he was re-operated on sooner, an inquest has heard.
Malcolm Green, 82, began bleeding internally after surgery to remove a tumour at Withybush Hospital, Haverfordwest, in 2012.
But an operation to treat the bleed was not carried out until the next day.
Officials have admitted failing to respond to his condition in time.
The Milford Haven inquest heard Mr Green had undergone surgery on 26 June to remove a tumour in his colon.
But his blood pressure dropped overnight and staff identified internal bleeding the following morning.
He was prepared for surgery at 10:00 BST, but the procedure did not get underway for another three hours, the hearing was told.
He died three days later after suffering multiple organ failure.
Stop bleeding
Prof Michael Keighley, a retired professor of surgery, told the inquest on Wednesday that Mr Green "would probably have survived" if surgery had taken place before 10:15 BST.
Prof Keighley said multi organ failure was primarily caused by a delay in resuscitation and operating.
He told the inquest a senior house doctor should have alerted a registrar after seeing low blood pressure results for Mr Green at 06:30 BST.
He also challenged consultant surgeon, Otumeluke Umughele's decision to wait for blood products before re-operating on Mr Green.
"If there's a patient who's bleeding you stop the bleeding. You stop the bleeding, you don't wait for blood products," he said.
Prof Keighley told the hearing it was a "breach of duty" not to re-operate before 10:15 BST.
Hywel Dda University Health Board Trust, said they acknowledged there were failings in Mr Green's care and actions had been taken to ensure they were not repeated.
Evidence in the inquest ended on Wednesday afternoon but the coroner will deliver his conclusion at a later date.