Proms in the Park returns to Swansea from Caerphilly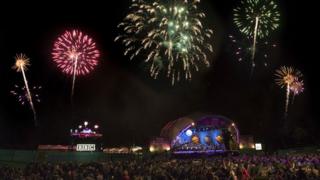 Thousands of spectators are expected to flock to Swansea's Singleton Park in September as the BBC's Proms in the Park returns to the city for the first time since 2010.
BBC Wales has announced the live event will take place on Saturday 13 September.
It is part of the BBC's wider Last Night of the Proms celebrations.
Concerts are held in Wales, Scotland, England and Northern Ireland on the final night of the BBC's Proms season.
The event moved to Caerphilly in 2011 after being staged in Swansea for the previous eight years.
The return of the proms to Swansea coincides with the centenary of Dylan Thomas' birth which BBC Wales is currently marking with a series of programmes.
The proms will feature the BBC National Orchestra and Chorus of Wales together with other, as yet unveiled, star guests.
BBC Cymru Wales Director Rhodri Talfan Davies said: "BBC Proms in the Park is a wonderful opportunity to share in the fun and excitement of the Last Night of the Proms.
"This year we're back in Swansea after a successful time in Caerphilly. Returning to Singleton Park, in the year of the centenary of the birth of Dylan Thomas, is very exciting and I'm sure everyone in the park and millions of viewers at home are in for a real treat."
Swansea council's cabinet member for regeneration, Nick Bradley, said the authority had worked hard to bring the proms back to Swansea because it was a "very popular event thanks to its impressive live stage and renowned artists".
"I know that thousands of people will be delighted to see it return to Singleton Park once again," he added.