No action over Carmarthenshire and Pembrokeshire unlawful payments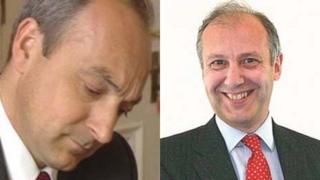 Police say there will be no further action into unlawful payments made by two councils to their chief executives.
Gloucester Constabulary launched an investigation after the Wales Audit Office ruling over cash payments made in lieu of employer pension contributions.
The police inquiry found no evidence to suggest that any criminal offences had taken place.
Dyfed-Powys Police said both local authorities have been told.
Carmarthenshire chief executive Mark James stepped down while the police investigation was carried out.
There were calls for the chief executive of Pembrokeshire, Bryn Parry Jones, to also step down, but he has remained in post.
Pension scheme
Last week Mr Parry Jones and a second unnamed senior official were asked by an extraordinary meeting of Pembrokeshire Council to pay back a total of more than £45,000.
In February, the auditor said the decisions to allow certain officers to receive payments, and then for payments to be made, were unlawful on several grounds.
Both councils had allowed the chief executives to opt out of the Local Government Pension Scheme (LGPS) to avoid potential tax payments, the watchdog said.
More than £27,000 was paid to Mr James under the scheme since 2012 and about £51,000 was expected to have been paid to Mr Jones and the unnamed officer by the end of March.
Reassurance
A statement from Dyfed-Powys Police said: "Gloucester Constabulary have now completed their enquiries and have confirmed that following an objective and independent analysis of the evidence, they did not find any evidence to suggest that any criminal offences had taken place.
"On the basis of this, the police will be taking no further action in relation to these matters."
Councillor Kevin Madge, leader of Carmarthenshire council, said in a statement: "I am pleased that the police have concluded that there is no evidence of any criminal wrongdoing.
"I was always one hundred per cent sure that this would be the case, but it is in everyone's interest that this has been looked at independently and that the public have now been given the reassurance that they need and deserve."
Pembrokeshire's leader Councillor Jamie Adams said: "I have always maintained that though the decision in question may have been procedurally flawed, no individual had used their influence improperly.
"I am pleased that the police have reached a similar conclusion and have decided that there is no basis to investigate this matter."