Swansea city centre to Liberty Stadium link road boost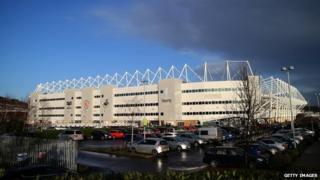 Work is due to start on a £4.5m road which links Swansea city centre to the Liberty Stadium.
The Morfa distributor road will run parallel to the River Tawe and it is hoped it will also attract businesses to set up along the route.
Housing and student accommodation is already being built in the area.
The new road should also ease congestion down Neath Road in Hafod, between the Liberty and Dyfatty which has suffered from pollution problems.
The problems are at their worst at busy times including match days when Swansea City in particular play.
A system has been set up around the city centre to warn motorists to avoid Neath Road when pollution levels go too high, but is not yet up and running.
It is expected to take three years to complete the road which has received £1.5m funding from the Welsh government's local transport fund.
June Burtonshaw, cabinet member at Swansea council, said: "The road will provide direct access to a number of development sites along the banks of the River Tawe and is essential to attract investment in the area."
The council has also received a further £300,000 to improve the cycle network around the city centre.