Dog mess on Swansea streets sprayed pink in campaign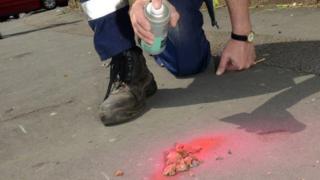 Dog mess left on a city's streets will be sprayed pink and left for 24 hours to highlight the problem.
It is part of a campaign by Swansea council to encourage dog owners to clean up after their pets.
Patrols have already been taking place around the city over the last few months with on-the-spot fines being handed out.
But in the latest move, officials took to streets in Townhill on Friday to spray every bit of mess found.
Swansea council's cabinet member June Burtonshaw said: "The use of bright coloured spray paint will make it difficult for residents to avoid seeing it on the streets.
"Hopefully the campaign will make residents more aware of the problem and make them think twice before allowing their dog to foul public places."