Laverbread salmonella probe continues in south Wales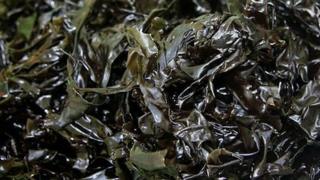 An investigation into an outbreak of salmonella which was possibly linked to laverbread seaweed is continuing but there have been no new cases.
Public Health Wales (PHW) launched a probe in March after people in Swansea, Neath Port Talbot, Carmarthenshire, Rhondda Cynon Taf and Vale of Glamorgan areas fell ill after eating laverbread in the days before.
There have been 17 salmonella cases.
PHW said there is no need to avoid buying laverbread.
Local firm Penclawdd Shellfish Processing Ltd voluntarily withdrew sales of its laverbread as a precaution which was produced and distributed between 5 and 8 March.
PHW took samples from the factory in Swansea where investigations are focused and have not shown any evidence of salmonella in either food or in the environment.
No other laverbread producers have been investigated as a result of the outbreak.
Dr Jörg Hoffmann, consultant in communicable disease control for PHW, said: "Laverbread is generally a safe product to eat, and it remains unclear whether it is indeed the source of this outbreak.
"However, we are not seeing new cases of salmonella who have become unwell since the product was withdrawn from sale."
Salmonella is one of a number of organisms that gives rise to illness collectively known as food poisoning.
Infection with salmonella can cause watery and sometimes bloody diarrhoea, abdominal pain, headache, nausea, vomiting, and fever.
Despite no conclusive evidence that laverbread, from Penclawdd, made people ill, the safety scare has hit sales hard.
Carol Watts' family has been selling seafood at Swansea Market for four generations.
She said: "It has been bad for us because with salmonella everybody panics but there's been clear results but sales haven't come back enough because it wasn't publicised enough to show it was all good."