90 jobs go at TV's call centre firm Save Britain Money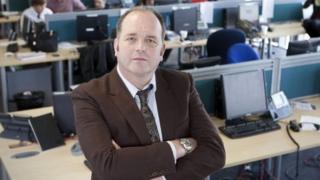 A call centre which features in a reality TV series has laid off 90 staff at its Swansea offices.
Nev Wilshire's Save Britain Money, which employs around 700 people at Swansea Enterprise Park, said the cuts were short-term.
They are in the Nationwide Energy Services (NES) section of the company which processes UK government-funded energy improvements.
Funding ended in March and that is what is being blamed for the cuts.
Jon Curtis, market director for Save Britain Money, said: "The lack of funding has impacted on all major players in the energy efficiency industry with the Marks Group and D&G having made redundancies in April, leaving us as the last company forced to act.
"On 9 May 90 of our NES staff were laid off for periods between four-six weeks.
"To ensure that these staff have a job to come back to we have been busy preparing our new Green Deal product and following recent government announcements this launch will happen in early June."
He added that all the staff are expected to be back at work by then and that the rest of the firm continued to trade as normal.
It features in the BBC Three series, The Call Centre.