Llanelli firefighters go to tribunal over 96-hour shift system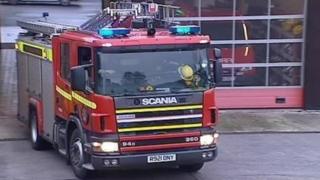 Twenty-three firefighters are taking legal action against their employers amid claims a 96-hour shift system made them seek work elsewhere.
The officers previously worked together at Llanelli fire station before changes to their working hours, an employment tribunal in Cardiff heard.
The new working system sees fire crews work 24-hour shifts, 12 on active duty and 12 on standby at bases.
Mid and West Wales Fire Service said it had properly engaged with trade unions.
The hearing was told that the fire service decided to switch workers' hours from the traditional "two days, two nights and four days off" system to a "self-rostering" shift scheme.
But the Fire Brigades' Union (FBU) said a system designed to be more flexible was, in fact, leaving crews overstretched and in some cases working back-to-back shifts which could total 96 hours' continuous service.
'Exhaustion'
The 23 claimants said they believed they had to accept the system or move to another station.
Their barrister, Oliver Segal QC, spoke about how one firefighter fell asleep in a fire truck on the way to a blaze due to exhaustion from a continuous three-day shift.
He added that self-rostering came into force on 8 April last year.
The claimants said they were not given the chance to "opt-out" from the scheme, effectively meaning they would have to go and work elsewhere.
But Mid and West Wales Fire and Rescue Service assistant chief fire officer Derek Masson disputed this at the tribunal.
He said the service had properly engaged with trade unions over the plans.
Mr Masson said he "could not recall" whether the option to opt-out was raised at a so-called technical advisory panel meeting.
He said it could have been discussed but the person taking the minutes had not recorded its discussion.
The firefighters have moved to other stations in the area.
The hearing is set to conclude on Friday.
The three-person panel has said it will not be making a ruling immediately and will give its decision in writing once it has "properly considered" both arguments.