Birthday honours: Panto star Denys Jenkins receives BEM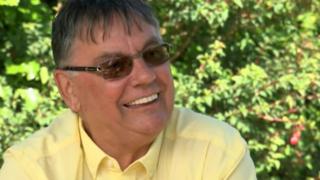 A pantomime star from Carmarthenshire said he was "gobsmacked" to be awarded the British Empire Medal.
Denys Jenkins, 72, from Carmel, has spent 40 years as a voluntary and charity worker.
Well known to pantomime audiences in Llanelli as Denny Twp, he has also served many years as a scoutmaster.
"I felt really humble and very proud. In fact, a bit nostalgic as I wish my mother was alive to see it," he said of the award in the Birthday Honours list.
"I couldn't believe my eyes - I was gobsmacked."
School talks
Mr Jenkins said his work with the Friendship Theatre Group in Llanelli had raised more than £155,000 for local charities, and estimated that he himself had raised as much as £750,000 over the years through various activities.
He was also praised for his work opening charity events and sharing his love of reading by talking to children in local schools.
Mr Jenkins has also received a Silver Acorn, one of the highest awards in scouting, in recognition of more than 50 years of service.
"We don't do it for the recognition," he said.
"I enjoy making people laugh and helping people."