Swansea's Swiss Cottage restored after fire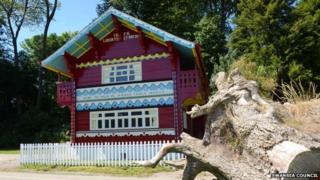 A 19th Century Alpine-style cottage has been restored after being badly damaged in an arson attack four years ago.
The iconic Swiss Cottage in Swansea's Singleton Park, built in 1826, was once used as a home but in recent years it has become a storage facility.
Although the fire took place in 2010, it was not until last year that the repair work began as approval was needed by Wales' heritage body, Cadw.
Now, there are plans to bring the ground-floor back into use.
"It was always our intention to reinstate it to its full glory for the benefit of many thousands more people in years to come," said councillor Nick Bradley, Swansea council's cabinet member for regeneration
"The Swiss Cottage is an iconic Swansea landmark that's been enjoyed by many thousands of people over the years.
"Although no final decisions have been made, we're finalising a business plan that's aimed at bringing the ground floor of the building back into use in future.
"This will help boost what's already a fantastic visitor experience in one of Swansea's most popular parks."
The repairs have seen the identical replacement of windows, doors and stairs along with a new roof.
Other works included rebuilding the chimney, walls and flooring and reinstating timber and cladding.
Approval was needed by Cadw for the type of materials to be used because of the cottage's status as a listed building.