White Lady of Oystermouth carving at Swansea Museum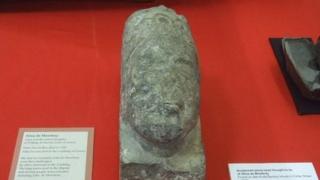 A 700-year-old stone carving believed to represent the White Lady of Oystermouth, is on display in Swansea.
The carving is thought to be of Alina de Mowbray, daughter of the Lord of Gower, who, according to legend, is said to haunt Oystermouth Castle.
It was found at on old rectory in Swansea's Fisher Street and is thought to date from about 1380.
The work is among a collection of 13th and 14th Century artefacts at Swansea Museum until 7 September.
Alina de Mowbray was the eldest daughter of William de Braose, Lord of Gower.
She married John de Mowbray in 1298 in Swansea Castle, who took part in the 1322 insurrection with Thomas of Lancaster and was executed after the battle of Boroughbridge in 1322.
Alina fled by boat from Gower to Devon but was discovered and imprisoned in the Tower of London.
On her release, she obtained confirmation of Gowerland for herself and her heirs from King Edward III.
Alina held Gower with her second husband, Richard de Peshale, until her death in 1331.
It is thought the carving originally came from St Mary's Church.
Cllr Nick Bradley, cabinet member for regeneration at Swansea council, said: "The relevance of heritage tourism can't be underestimated.
"There's a major appetite for it and exhibitions of this type show we're keeping pace with demand here in Swansea."