School transport cuts plan in Swansea sparks anger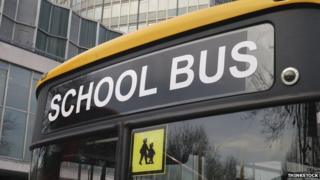 Controversial plans to cut free school buses to faith schools in Swansea are being discussed later.
Opponents claim religious discrimination and that some parents maybe unable to afford transport to affected voluntary-aided schools.
The council, which is looking to take "radical action" over budget cuts, said it had yet to make any decision.
Under the plans pupils will no longer get free travel to a faith school if a mainstream school is nearer their home.
In other changes, the council cabinet is also looking to:
Charge around £300 a year for transport for students to sixth forms and post-16 colleges.
Cut back on passenger assistants who travel as escorts on buses.
Currently, children get free school transport when they live more than two miles (for primary age) and three miles (for secondary age) from their nearest suitable school.
This rule will continue but the council is proposing that pupils who go to faith schools will no longer get free travel if an alternative school is closer to their homes.
Some believe this is unfair, with parents unhappy the same rule is not being proposed for those who apply to Welsh language schools.
'Nurture the faith'
Council officials say they are obliged to promote access to education through the medium of Welsh.
In the consultation report, they say they cannot deny that poorer families may find it more difficult to find the money to get their children to a faith school but they would still "have access to a good local school".
If agreed, the new policy will also be phased in over six years so those pupils currently receiving free transport will continue to get it until they leave or change schools.
---
CASE STUDY: St David's RC Primary School, West Cross, Swansea
At this Catholic primary school parents have already organised protests against the proposed changes which would affect more than half of pupils.
Children travel from up to 15 miles (24 km) away to the school and it is estimated 60% of its 230 pupils, who currently travel on three buses, will be affected.
To continue with the buses in the future, St David's would face having to organise its own buses and charge each pupil £300 a year.
Head teacher Philip O'Leary said: "The council has said it would be phased in but we could have the situation with a new pupil starting school, who won't get free transport but brothers and sisters at the school will continue to get their free transport until they leave.
"What do the parents do in those circumstances?"
---
More than 800 responses have been received by the council officials carrying out the consultation, including from parents and pupils themselves. Of those 741 were opposed to the proposed school transport cuts,
At Bishop Vaughan Catholic School, the sixth form committee is worried about the cost to parents, the rise in traffic and the number of changes needed on buses if pupils take public transport.
It added: "We see this as discrimination against the children who attend this school because they've chosen, with the legal rights they have, to attend a Catholic school which will support and nurture the faith they have chosen to follow."
Officials deny religious discrimination, arguing that faith schools are currently treated more favourably than the other English medium schools and the new policy will now treat both equally.
The aim is to save the council more than £600,000 by 2021.
The cabinet is being asked to consider the responses to the consultation and what to recommend to council on the future direction of the service when it meets on 15 July.
A Swansea council spokesman said: "The views of all respondents are being taken into account. The council will update schools and other respondents on progress."