Richard Craddock murder: Katie Jenkins 'hid knife in bra'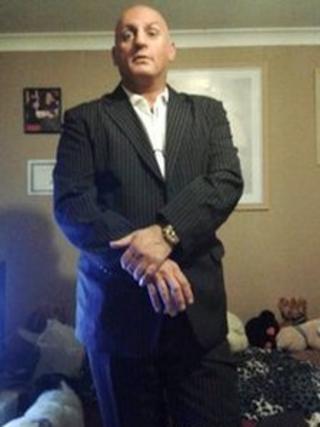 A businessman was stabbed to death in his car by a woman who hid a knife in her bra, a court heard.
Katie Ann Jenkins met Richard Craddock through a friend in May 2013 and texted him for a lift home after a night out.
She was at the 51-year-old's Swansea flat earlier that night where she told another friend she was texting her "in case something bad happens".
The defendant, 23, from the Waunarlwydd area of the city, denies murder at Swansea Crown Court.
Jurors were told Miss Jenkins and her friend Demi-Lee Widdowson had been out drinking in Swansea on 10 May before Miss Widdowson text Mr Craddock asking if the two could go to his flat in Sandfields to use his karaoke machine.
The court was then shown mobile phone footage, recorded by Mr Craddock at his flat, of Miss Widdowson singing "Lady Marmalade."
Patrick Harrington QC told the court that despite the light-hearted nature of the video: "The atmosphere in the flat wasn't all good. Katie told her friend that Richard Craddock had tried to touch her. He'd told her she was attractive."
It is said while at the flat, Miss Widdowson took a 12cm knife from the kitchen.
Miss Jenkins sent a text to another friend, Leah Adams.
The text read: "Demi took me to a house and some man told me he is 48. His name is Richard. Told me he will have sex with me regardless and I'm texting you in case something bad happens."
Her friend told her to leave the flat immediately, but the defendant said she could not because she had no money.
The court heard the two women were then taken by Mr Craddock to a friend's house in Loughour.
Later, Miss Jenkins texted Mr Craddock to ask for a lift home and then to the shop.
Mr Harrington said: "What precisely happened there is known to just one person and that person is Katie Jenkins."
CCTV footage was shown of Mr Craddock's Ford Fusion pull over with the hazard lights flashing before the defendant got out and Mr Craddock stumbled out.
The victim collapsed and was found by a passer-by in a pool of blood on Sterry Road, Gowerton. He was pronounced dead at Morriston Hospital.
Jurors were told the defendant returned to Miss Adams's house and was crying uncontrollably before saying: "He is coming, he's outside, I've hurt him, I've stabbed him."
When asked what had happened, Miss Jenkins replied: "I wouldn't have done it for no reason, I know I'm going to prison for a very long time."
A post mortem examination showed Mr Craddock died from a single stab wound which perforated his jugular vein.
The trial continues.