Richard Craddock murder: Katie Jenkins told friend 'I stabbed him'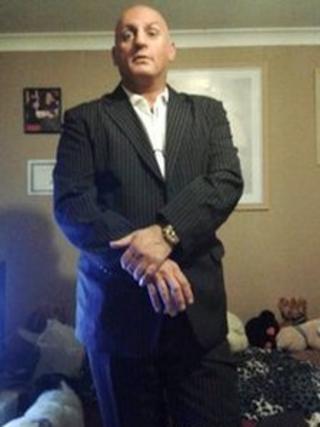 A woman ran into a friend's home with bloody hands crying "I've stabbed him", a murder trial heard.
Katie Ann Jenkins, 24, denies murdering businessman Richard Craddock, 51, in May last year at her trial at Swansea Crown Court.
She plunged a kitchen knife into his neck after he gave her a lift in Swansea, the hearing was told.
The prosecution said the defendant's claims she acted out of self defence were "simply not true".
Jurors were told Mr Craddock's car had come to a standstill in Sterry Road, Gowerton, close to the home of Miss Jenkins' friend, Leah Jane Adams.
Electrical engineer Miss Adams said she was woken by a loud banging at her front door.
Miss Adams said: "She was hysterical. She kept saying something like he's coming... and she said she had hurt him. I asked who and she said 'that man'.
'Gargling blood'
"She said 'I've stabbed him'. She then went into shock and looked petrified. She had blood on her hands and was shaken up.
"My boyfriend asked me what had she done because there was a man outside that looked like he was gargling blood.
"I then saw in the middle of the road... a man fall to the ground.
"Katie kept apologising and saying 'tell them I did it'.
"She said she had been in the car and he had been touching her thighs. She said he [Mr Craddock] was going to rape her.
"She said she realised she was on Sterry Road, where I live, and told him 'if you are going to do it, do it now'.
"Katie said he then stopped the car and that's when she stabbed him."
The court heard that in the early hours of 11 May 2013, Miss Jenkins got a lift from Mr Craddock from a house in Loughor.
Smoker Miss Jenkins had been at that address with friend Demi Lee Widdowson when the pair had run out of cigarettes.
Patrick Harrington QC, prosecuting, said the plan was for Miss Jenkins to go back to her flat in Waunarlwydd to get her bank card before going to a 24-hour off-licence to buy more tobacco.
During cross examination, Miss Adams said she had known Miss Jenkins for about seven or eight years.
She told Elwen Evans QC, defending: "In all the years I have known her I have never seen her be violent or use a weapon."
The court also heard from Steven Harris, a long-time friend of Mr Craddock, who said his friend liked Miss Jenkins.
"He was complimentary towards her and I saw him stroke her hair and face," he said.
The trial continues.