Richard Craddock: Katie Jenkins pleads guilty to manslaughter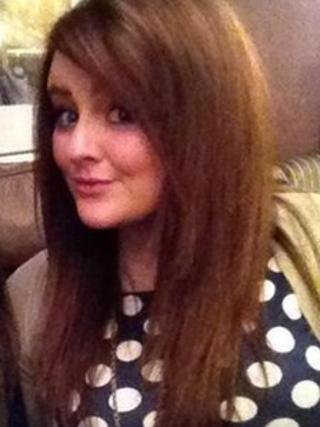 A woman who stabbed a businessman in the neck in his car has pleaded guilty to manslaughter.
Katie Ann Jenkins, 24, killed Richard Craddock, 51, in May last year, Swansea Crown Court heard.
She plunged the 4 inch kitchen knife into his neck in Sterry Road, Gowerton, after he gave her a lift.
Jenkins had been on trial for murder but changed her plea on Thursday, which was accepted by the prosecution.
The former call centre worker is expected to be sentenced next Thursday.
Jenkins met Mr Craddock through a friend in May 2013 after a drinking session with friend Demi-Lee Widdowson.
Bank card
Miss Widdowson sent Mr Craddock a text asking if they could go to his flat in Sandfields in Swansea to use his karaoke machine.
But while they were at his flat Jenkins told her friend Mr Craddock had tried to touch her and told her she was attractive.
At the flat, Miss Widdowson took a 12cm knife from the kitchen and placed it in her bra.
Later at another friend's flat, Miss Widdowson removed the knife but Jenkins put a different one in her own bra before accepting a lift on her own from Mr Craddock to go and get her bank card to buy cigarettes.
It was while the pair were on Sterry Road CCTV footage showed Mr Craddock's Ford Fusion pull over with the hazard lights flashing before Jenkins got out and Mr Craddock stumbled out.
Jenkins ran to friend Leah Adams' house nearby with bloody hands screamed hysterically "I've stabbed him".
Ms Adams told the court: "She said she had been in the car and he had been touching her thighs. She said he [Mr Craddock] was going to rape her."
Mr Craddock collapsed and was found by a passer-by in a pool of blood. He had been stabbed once and the blade perforated his jugular vein.
The Crown Prosecution Service's Kathryn Jones said: "In this case, we continued to review the available evidence as the trial progressed.
"After very careful consideration, we concluded that a guilty plea to the offence of manslaughter did justice to the circumstances of the case."