Carmarthenshire WW1 soldier portrait mystery solved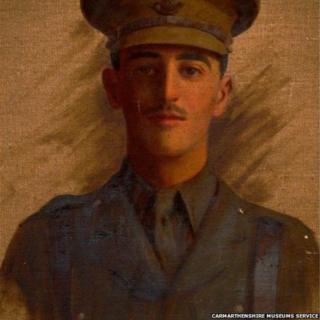 A painting of an unknown World War One soldier held by Carmarthenshire Museums Service has been identified.
The portrait was a mystery solved by Art Detective, a website where experts try to piece together missing information about paintings
The officer has now been identified as Second Lieutenant Paul Chancourt Girardot, killed by a shell in the second month of the war.
His widowed mother Mary lived in Carmarthen.
Girardot, 18, was serving with his late father's old regiment, the Oxford and Bucks Light Infantry, when he died at Soupir on 16 September 1914.
He was one of 31 men killed when a huge shell exploded as he rested in a quarry
His obituary, including a photo, was used as evidence sent to the website by Martin Gillott, who also found battalion war diaries that recorded his death.
Girardot was an only child, the son of a late lieutenant colonel who was in his late 60s when he was born and died when he was seven.
He was educated in Eastbourne and boarded at Cheltenham College before joining the Army six months before war was declared.
His widowed mother was born in Cardigan but living in central London before the war with her son before later moving to Carmarthenshire.
The painting, by an unknown artist, has had its title changed from Portrait of an Unknown First World War Officer to Second Lieutenant Paul Chancourt Girardot (1895-1914).
It is also featured on the BBC Your Paintings website.