Warning over 'tombstoning' danger at Milford Haven dock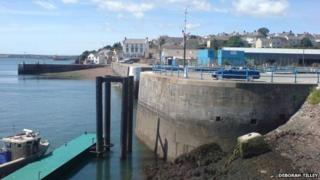 Young people in Milford Haven are being warned about the dangers of "tombstoning" into the town's dock.
The port is the biggest in Wales and those who help run it are advising people to stay away from the water where ferries and cargo ships pass.
They say strong currents could pull people under while timber hidden under the water could cause injury.
The warning comes after people have been seen jumping into the water over the past few weeks.
Richie Morgan, health, safety and security manager at the Port of Milford Haven, said: "Milford Dock is a busy working environment with thousands of vessel movements every year.
"We encourage everyone to enjoy the sights of Milford Marina and the bustling fishing industry from the shore-side, but there are real dangers when entering the water at this location, which we take very seriously".
He said port managers actively encouraged people to use the water for recreational activities but recommend they attend events organised by qualified instructors in locations which have been identified as being safe.
Tombstoning - an activity which involves jumping off cliffs or other high points into water - has led to a number of injuries and even deaths across the UK.
Anyone who sees anyone entering the water at Milford Dock is asked to contact dock operations on 01646 696300.