Glangwili and Withybush midwife-led units to offer 'comfort'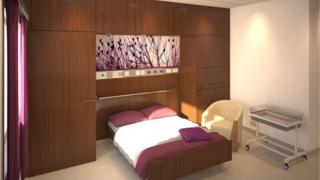 New midwife-led maternity units at Glangwili and Withybush hospitals will offer mothers a home-from-home birthing experience, the health board says.
The new facilities were created after it was announced consultant-led services at Withybush Hospital in Haverfordwest would close.
The changes, which come into force on 4 August, sparked protests.
Hywel Dda health board said the new units would provide a homely and relaxed atmosphere for mothers-to-be.
The new facilities will be staffed and managed by midwives, who will have all the usual equipment and pain relief to support birth, including birthing pools.
But women who experience any complications will be transferred to the nearest consultant-led unit.
An extra ambulance will also be based at Withybush Hospital to transport a mother or baby if needed.
'Better care'
Vicki Dawson-John, community team midwifery leader from Carmarthenshire, said the new service would give women more choice about where they would like to deliver their babies.
"We are hoping to provide a home-from-home environment, some place where you're very comfortable, very relaxed, and an environment that caters for your needs as a woman, as well as your partner and family's needs," she said.
Julie York, community team leader for midwifery services based in Manchester Square Health Centre, Milford Haven said: "For a majority of women their clinic experience will remain the same, we will continue to have a team of midwives in your locality who will be running the antenatal clinic services as before.
Hundreds gathered at the Senedd in Cardiff Bay to protest against the health board's reorganisation, which included plans to transfer the special baby care unit to Carmarthen.
The local patients' watchdog also expressed concerns the move could put lives at risk.
Hywel Dda University Health Board and the Welsh government said the changes would provide a better level of care.