Teen to pay £300 towards repairs on £245k McLaren supercar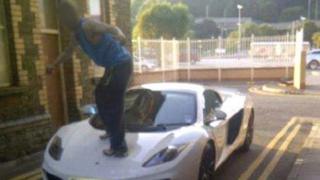 A teenager who jumped on the bonnet of a £245,000 supercar causing £11,000 worth of damage has been told to pay the owner £300 compensation.
The 17-year-old, who cannot be named for legal reasons, was pictured on the McLaren 12C Spider parked in a side road in Port Talbot.
He was arrested after police saw the picture on Twitter and he admitted criminal damage at Swansea Youth Court.
The businessman car owner has said he will foot the rest of the bill himself.
The £300 compensation is to meet the cost buffing out the scuff marks on the carbon fibre bodywork of the car which has a top speed of 207mph.
The sentencing on Thursday also handed the defendant a youth rehabilitation order.