Path in Swansea's Bryn-y-Don Park lights up at night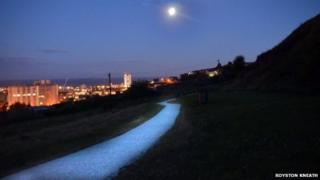 A glow-in-the-dark path has been unveiled in Swansea park.
The path, which produces its own energy, is the first of its kind in Wales.
It has been sprayed with a UV "Starpath" coating at Bryn-y-Don Park and will light the way for people at night.
Swansea council says the path is sustainable, energy-efficient and will make unlit areas safer.
Cllr Sybil Crouch said: "It's our goal to work with local residents to transform Bryn-y-Don Park from a neglected patch of land into a valued asset for the communities it serves."
Ms Crouch, Swansea's cabinet member for sustainability, said it is the latest in a number of schemes to "significantly improve" the area for residents and people who pass through the area every day.
"Not only does the Starpath look lovely at night, but it's also sustainable and energy-efficient, capturing sunlight to enhance safety in unlit areas," she said.
The sprayed-on coating produces its own energy during the day, and chemicals react in darkness to produce light.
Starpath inventor Hamish Scott, owner of Pro-Teq Surfacing (UK) Ltd, said: "We're overwhelmed by the public and media response for this product globally, and now Swansea has the first Starpath in Wales."