Family loses fight to keep autistic daughter in Swansea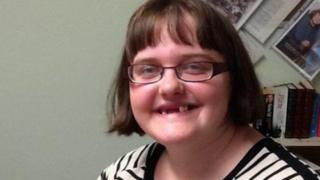 A Swansea family has lost its bid to prevent a health board moving their autistic daughter to a specialist unit in Brighton.
Claire Dyer, 20, will have to move from the Swansea unit she has lived at since April 2012 after Abertawe Bro Morgannwg University Health Board's decision was upheld by a judge.
Her family obtained an injunction blocking the move but it was overruled at a hearing on Friday.
The family say they are "heartbroken".
The court hearing was told the health board had proposed the transfer because staff cannot cope with Miss Dyer's "extremely challenging" behaviour and said there was no other suitable alternative in Wales.
Jonathan Auburn, representing the health board, said she had displayed aggressive behaviour, had threatened to kill members of staff and tried to use a drain pipe as a weapon.
He denied the health board was attempting to "wash its hands" of her and said it would remain fully responsible for her after her move to Brighton.
Catherine Dyer, of Gowerton, said she fully understands her daughter needs care, but believes Brighton is too far away and will make her daughter's behaviour worse.
Speaking after the hearing she said: "We are heart-broken and devastated that my daughter is to be moved 230 miles away and this decision will just tear our family apart.
"It is clear that she needs specialist support and while we accept that her current hospital is only a temporary solution, the fact that there is no place in the whole of Wales is beyond belief.
"We are totally against Claire being sent hundreds of miles away to Brighton, not just because of how far away it is from her family, but also because we do not believe that a medium secure hospital is suitable to meet her needs.
"We feel very strongly that moving Claire out of Wales and so far away from her family will have a devastating effect upon her and our family as a whole."
A spokesperson for Abertawe Bro Morgannwg University Health Board said it made every effort to arrange temporary placements close to a patient's home but said it was not always possible.
When local placements are not possible, the health board said it looks at ways to bring patients closer to home as soon as possible.