National Eisteddfod apology over park-and-ride bus delays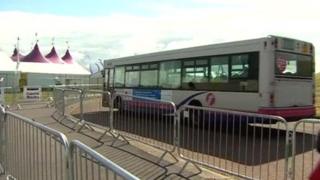 Eisteddfod bosses have apologised after problems with a park-and-ride system led to delays for visitors at the festival in Llanelli.
People had complained at having wait up to an hour for buses to arrive at the car parks to take them to the maes.
Eisteddfod director Elfed Roberts said the festival had only the night of the opening gala to test the system.
He said: "Both the bus company and ourselves go a few things wrong, and for that we apologise."
A supervisor would be place for the rest of the festival and more buses would be provided, he said.
Mr Roberts added: "By last night we managed to move 1,800 people from the pavilion to the car parks in a little over half and hour, which is the standard we are looking to have for the duration of the eisteddfod."