National Eisteddfod: Safes containing £6k cash stolen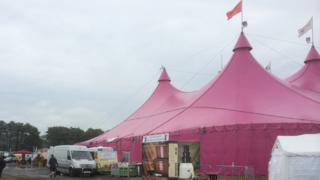 Two safes containing around £6,000 have been stolen from the visitor centre at the National Eisteddfod in Llanelli.
Eisteddfod officials said the cash taken was to be used as the float - to provide change - at the centre.
Monday's takings had been safely taken away by security guards, they said. Up to 150,000 visitors are expected at the Welsh-language cultural festival.
Police search teams with dogs have been examining areas of the maes after the alert was raised on Tuesday.
Dyfed-Powys Police said: "Police are investigating a burglary which occurred sometime overnight on the eisteddfod site in Llanelli."