Mother's concerns over disabled care services in Swansea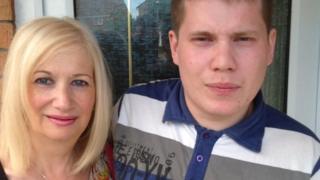 A mother whose autistic son attends a day care centre in Swansea fears he and other vulnerable adults are becoming victims of council cuts.
Karen Struel-White, from Murton, said a meeting of parents at the Grand Theatre on Tuesday will discuss the changes.
She claimed they are being "kept in the dark" about what is going to happen to their children.
But Swansea council said no decisions have been made and all options are under consideration.
Sam Struel-White, 22, attends the West Cross day care centre five days a week, enjoying activities including computing, bowling, playing golf and swimming.
His mother said parents were told earlier this summer that there were going to be changes to the day care services for Sam and other adults who attend the centre, but they had not heard anything since.
'Protected from cuts'
She added they were told the council was trying to save £800,000 a year as it coped with central government funding cuts.
"But that's not a lot of money in the overall scheme of things, is it?" said Ms Struel-White.
"I feel that vulnerable young - and older adults - should be protected from cuts. And the way Swansea council is going about this is not right.
"Whatever they decide to do with the services, it is still going to cost money."
Ms Struel-White said parents attending the centres had been told their children would be assessed, but this had not yet started.
She added: "The staff (at West Cross) are amazing. My fear is Sam is going to be put somewhere where the staff don't know him, and they don't know his needs."
Families
A spokesperson for Swansea council said a consultation on the future of four day care centres - West Cross, Glandwr, The Beeches and Abergelli - was under way and staff have already talked to over 100 family members.
The council is looking at how services are provided now and over coming years, and the consultation with service users, carers, council staff and other interested organisations will help it make the decisions.
Service users and their families would be kept fully informed with a decision is expected before Christmas.