Swansea nurse Maureen Lumber's 42 years in urology over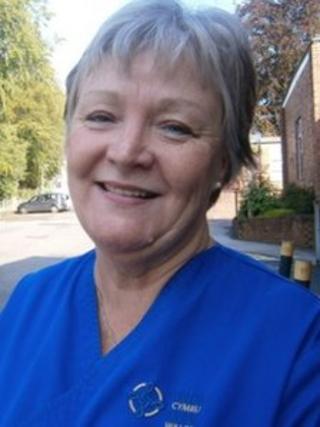 A nurse who has spent her entire career at the same Swansea hospital is to retire after 42 years service.
Maureen Lumber started as a student nurse at Morriston Hospital in 1972 and has always worked in urology.
She said she had found her role as a clinical nurse specialist in continence "very interesting".
"There is still a bit of a stigma attack to it... we have tried to break down that barrier over the years," she said.
The Swansea-born nurse, who still lives in the city, qualified in 1975 and was a staff nurse before becoming a ward sister in 1979.
In 1990 she was was promoted to her current role and set up the hospital's first continence service.
She said: "Continence doesn't kill you but it does interfere with your quality of life.
"It can stop you taking part in social activities, holding down a job or maintaining relationships - things we all take for granted.
"It can affect a large number of people. Unfortunately, a lot of them don't seek help because it's a hidden problem."
Having turned 60, Ms Lumber will step down at the end of August.
She said: "I've had a great career, worked with some fantastic people and met a lot of lovely patients.
"I've loved it, but after 42 years I think it's time to call it a day."