Michael Sheen's Swansea bite-size Dylan Thomas readings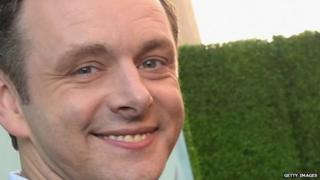 Hollywood actor Michael Sheen will soon be heard reading bite-size extracts of Dylan Thomas poems across Swansea.
Sheen has agreed to take part in Poems in October, a project celebrating Thomas's centenary.
The voice of the Frost/Nixon and The Queen star will be used for minute-long recordings of some of the poet's and Shakespeare's famous works.
The train station, market and Grand Theatre are some of the places where visitors will be able to listen in.
They will also be broadcast in the No Sign Wine Bar in Wind Street and the Uplands Tavern through concealed speakers or PA systems.
Some of the works will also be recorded by Royal Shakespeare actors.
Sheen, who grew up in Port Talbot, recently appeared in a BBC Wales TV adaptation of the Swansea-born poet's Under Milk Wood, and his support for this project follows his backing for other drama projects in Wales.
'Most famous sons'
Nick Bradley, Swansea council's cabinet member for regeneration, said: "It's fantastic news that Michael Sheen is on board for this exciting project - his voice is known across the world and will be instantly recognisable to the many thousands of people visiting Swansea city centre in late October and early November.
"It's also hugely apt that one of Swansea Bay's most famous contemporary sons will be reading an extract from the rich body of work of a man who arguably did more during his lifetime to put our area on the map than anyone else throughout the course of history."
The Poems in October project, which runs from 25 October to 9 November (Thomas was born on 27 October, 1914 and died on 9 November, 1953), is part of a programme of activities being run by the Glynn Vivian Art Gallery in Swansea.
It is also one part of Swansea council's Dylan Thomas 2014 Festival which also features the reopening of an upgraded, permanent exhibition about the poet at the Dylan Thomas Centre.
There is also an exhibition featuring Dylan's Swansea at the city's museum.