Gower designer home in line for Manser Medal architecture award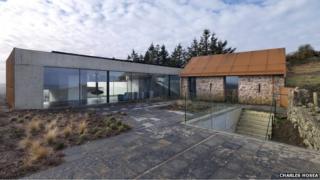 A modern home described as a contemporary castle on Gower has been named on a shortlist for a prestigious UK housing design award.
Stormy Castle, on Llanmadoc Hill, is one of six contenders for the Manser Medal awarded by the Royal Institute of British Architects (Riba).
It has already won gold at the 2014 National Eisteddfod.
Two homes in the Hebrides, two in London and one in Hampshire are also vying for the Riba prize on 16 October.
'Tour de force'
The house was built for a local couple who wanted something reflecting the local surroundings - an Area of Outstanding Natural Beauty - while making the most of its site.
Riba said the resulting design was "a tour de force in terms of space, natural light, level changes and connection to the landscape".
It said that much of the three-level building, designed by Cardiff architects Loyn and Co, was cleverly hidden in the ground, and praised its energy, recycling and heating strategies.
"This is a brave design in an area of Wales where the more conservative, vernacular indigenous design solution usually holds sway," the shortlist commendation added.
Riba President Stephen Hodder said: "The originality, ingenuity and innovation on show in this shortlist should be an inspiration for anyone planning to build or make improvements to their own home.
"I encourage the UK's volume house builders to look at the shortlisted schemes - we all deserve to live in homes that comfort and delight us."