Seal pup rescued from Pembrokeshire roadside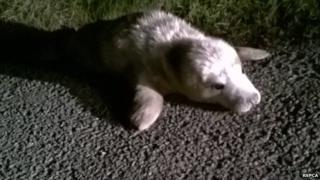 A lost grey seal pup who dragged herself off a Pembrokeshire beach and took to the road in search of her mother has been rescued.
The exhausted seal, named Jelly and just days old, was found at least half a mile from the beach at Abereiddy.
A couple staying in a holiday cottage near the beach were woken by her cries and later found her on the road.
Jelly, who was skinny and underweight, will be cared for by the RSPCA before being released back into the sea.
The rescue took place in the early hours of Tuesday morning.
RSPCA animal collection officer Ellie West said: "Jelly was found in quite unusual circumstances.
"Members of the public renting a holiday cottage next to the beach woke up at 3am to a crying noise and found the seal at the back of the cottage.
"They tried to go back to bed, but continued to worry about its welfare and went out again but the seal wasn't there.
"They went looking for her and found her underneath a car half a mile up the road heading towards St David's.
"Jelly was quite skinny and underweight. She had been on quite an adventure trying to find mum, but she had strayed some distance from the coast.
"All she did was sleep when I got to her."
Initially taken into safety by Terry Leadbetter from Welsh Marine Life Rescue, Jelly is now recovering at the RSPCA's West Hatch wildlife centre in Taunton, Somerset.
She will stay there for a few months until she is ready to be released back into the wild.
Anyone who finds a seal pup that looks and fit and healthy and shows no signs of distress should monitor it first from a safe distance for 24 hours before contacting the RSPCA.