Woman on tightrope mural 'needs planning permission'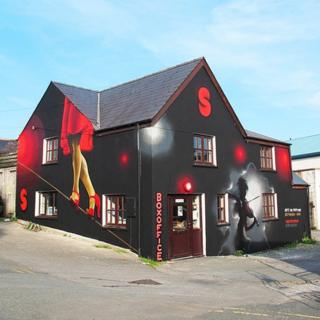 A mural featuring a woman in high heels walking a tightrope needs planning permission because the artwork contains phone numbers, says a council.
The exterior of Span Arts in Narberth, Pembrokeshire, was decorated with the image as part of its new look.
Pembrokeshire council said the work needs retrospective advertising consent because it has phone numbers.
Arts centre staff, who have put in for the consent, said they wanted to create something with a "wow factor".
The mural by professional graffiti artists Peaceful Progress was inspired by Bianco, a contemporary circus show which Span Arts helped produce in 2013.
Span Arts delivers a wide range of live arts including theatre, music, dance, storytelling and workshops.
The art centre said 200 people have signed a petition giving their backing to the mural.
Manager Gwen Watson told BBC Wales that Span "wanted to create a landmark for Narberth, something that had a wow factor and would draw people in".
She said: "Predominately, we've had an overwhelmingly positive response and we've got people popping by and taking photos every day."
A Pembrokeshire council spokesperson said: "We've asked the organisers to submit an application for advertising consent because the mural contains phone numbers."
It was unlikely that the arts centre would be asked to remove the mural, the spokesperson added.