Swansea petrol attack 'blinds' photographer in one eye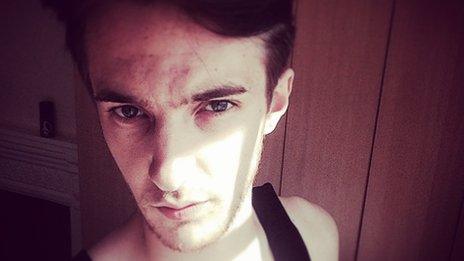 A photographer says he has been told he is unlikely to recover the sight in one eye after he had petrol thrown in his face in an alleged hate crime attack.
Tyler Maddick, 20, who is gay, says he was targeted by three or four men in a car as he walked home in Swansea.
He said he had already lost most of the sight in his left eye after an infection but doctors told him he is now likely to permanently lose the rest.
South Wales Police is investigating.
The freelance photographer, who studied at the London College of Fashion, had moved back to Swansea just days before he said he was targeted on Thursday.
He had just said goodbye to a friend at the railway station and was walking to his home in the Penlan area when the car pulled up alongside him and he was verbally abused.
He said: "The next thing I know I have this liquid in my face.
"It disorientated me. Then my eye started to burn up."
Mr Maddick said of his sexuality: "With me it's quite obvious so I guess they must have just picked up on it."
He said he had lived in Swansea for 15 years and never had a problem before.
Mr Maddick's mobile had run out of battery so, unable to ring for help, he carried on home and bathed his eye before calling for NHS advice.
He said: "I've been told that because I had an infection in the eye anyway that lost 90% of my vision, the chemicals going into my eye has knocked out 100%.
"I've been told there's a very high possibility that my vision won't come back in that eye.
"I have been visually impaired anyway but then there was the prospect that my eye could get better but now it's not going to happen."
A South Wales Police spokesperson said: "I can confirm that we are investigating an incident where a man has reported that he has had petrol thrown at him while walking along Pentregethin Road, Gendros, in Swansea at approximately 22.30pm on Thursday night."
The force is appealing for witnesses.
Related Internet Links
The BBC is not responsible for the content of external sites.