Abandoned Gower horses find a new home in Norfolk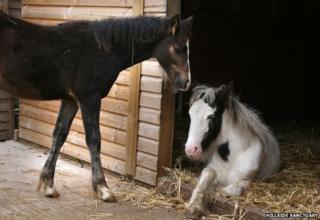 Fifty horses from Gower who were destined to be put down have begun a new life at a sanctuary in Norfolk.
The first ten of the animals abandoned on Penclawdd Marsh were seized by Swansea council and the RSPCA in May.
The authority was only obliged to keep the horses for seven days but volunteers from Friends of Swansea Horses persuaded them to wait while they looked for a new home for them.
An animal sanctuary in Norwich then answered the call.
Swept away
Wendy Valentine, founder of the Hillside Animal Sanctuary, said: "Luckily we had the space and resources to be able to take them in at short notice.
"Thanks to a warm summer and plenty of grass, many of them weren't in too bad a state, but some were very poorly indeed.
"The high tides washing up on the marsh had been irritating their skin and apparently young foals had even been swept away into the sea.
"One had to have his eye removed because he'd fallen on a tethering stake, but I'm pleased to say that all of them are starting to come on leaps and bounds now."
Ms Valentine added: "A large percentage of the horses we receive come from south Wales in particular. I'd say we've had over 250 in the last two years alone.
"The problem is that horses cost next to nothing to buy, but a fortune to care for properly, and when owners realise they've bitten off more than they can chew they're just dumping them anywhere."
Horses which can be re-homed will be found new, responsible owners.
Those who are too old or ill will live the rest of their lives at the sanctuary.
A spokesperson for Swansea council said: "The operation we carried out was done to establish ownership of a number of animals grazing on land in the estuary.
"In the event we cannot establish ownership, or if owners do not come forward, it's encouraging to know we are able to get support from the animal sanctuary."