Manx shearwater in distress alert from RSPCA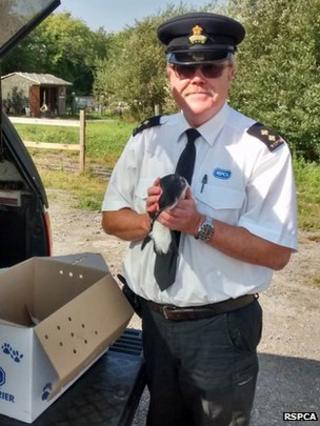 Manx shearwater birds may be seen in distress on Welsh beaches as their migration season approaches, the RSPCA has warned.
People have been urged to keep a look out after inspectors rescued their first Manx shearwater of the year, washed up on the coast at Carmarthen.
The stricken bird was released after a rest and a feed at the Gower Bird Hospital.
It will make another attempt to fly to South America for the winter.
The birds rely on thermals in the air to aid their transatlantic flight, and can be blown back to Europe by adverse weather conditions.
RSPCA Inspector Rohan Barker collected the Manx shearwater at Bronwydd Road, Carmarthen, on 9 September.
He said people should take the birds to a vet and alert the RSPCA.
"Anyone who spots one of the stranded birds should avoid its sharp beak, but throw a towel over it and carefully put it in a box," he said.
Manx shearwaters are black on top and white beneath their wings.
Their legs - set back far on their bodies - are ideally suited to swimming, but make it difficult for them to walk if they become stranded on land.
Despite the challenges they face during migration, they are amongst the most long-living of seabirds, with examples over 50 years old not uncommon.